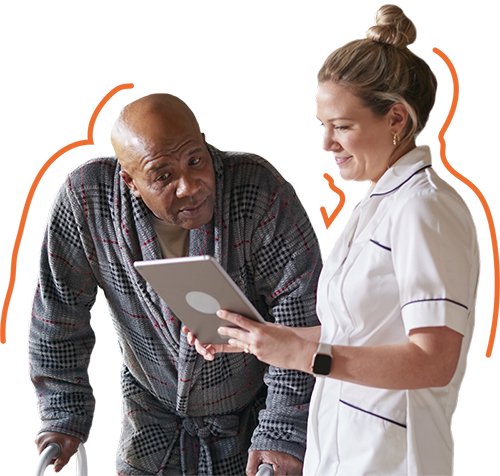 APPLY FOR JOBS IN ADULT SOCIAL CARE
Caring for people is amazing. You'll get to work with fantastic people who will teach you amazing things and change how you think about the world. Social care is all about the relationships you build. It's like you gain an extended family. And when you've got those special relationships, supporting people with whatever they need just feels like you're giving someone in your family a bit of help.
Become a
ACTIVITIES WORKER /
CO-ORDINATOR
Become a
TEAM LEADER / SUPERVISOR
Become a
REHAB OR REABLEMENT WORKER
What's it like to work in social care?
What care looks like varies cos we're all different. It could be just having someone there to go out with – eating out, cinema, pub, bowling, meeting up with friends. Or it could be helping them get up, washed and dressed in the morning so they can go about their day, or they might need some help preparing meals or taking medication. Simple things for you that bring a smile to other people's faces because they get to do what matters to them.
Who would I be working with?
It's such a varied job working with such different people. You could work with people who take longer to learn new skills, understand complicated information or interact with other people. You could work with people who have a physical disability. You could work with elderly people or with people who've had an accident or serious illness and need some help getting back on their feet again.
COVID-19: Do I have to be double jabbed?
You must have had or be willing to have double covid vaccination to work in adults social care.
How does the application process work?
This recruitment campaign is running across the North West because we have vacancies in every area. It is a partnership campaign because when you apply, you'll be asked to tell us the sort of jobs you are interested in, and the areas you would like to work – either because they are close to where you live or you could easily travel to them. We will then pass your application through to the social care organisations who have vacancies for the sorts of jobs you're interested in, in the areas you'd like to work in. If they like what they see in your application, they'll invite you in for an interview. You may be contacted by a number of different companies.
Do I need previous experience in social care?
You don't need previous experience. We're more interested in understanding if you care and share our values. If you're warm, kind, reliable, empathetic, compassionate, calm and a great listener, you could be just the person we're looking for. We'll train you to do everything else.
Are you currently unemployed and living in Greater Manchester?
Are you interested in working in social care but would like to find out more what's involved before you apply? Step into Care are looking for people with the right values and transferable skills to begin their social care career.
Step into Care can provide you with:
A short training course that gives you an introduction to working in social care and covers essential skills and knowledge
A working interview  with a reputable social care employer keen to welcome you into their team
A full funded DBS and support to match you with the right employer